Birds fly around with you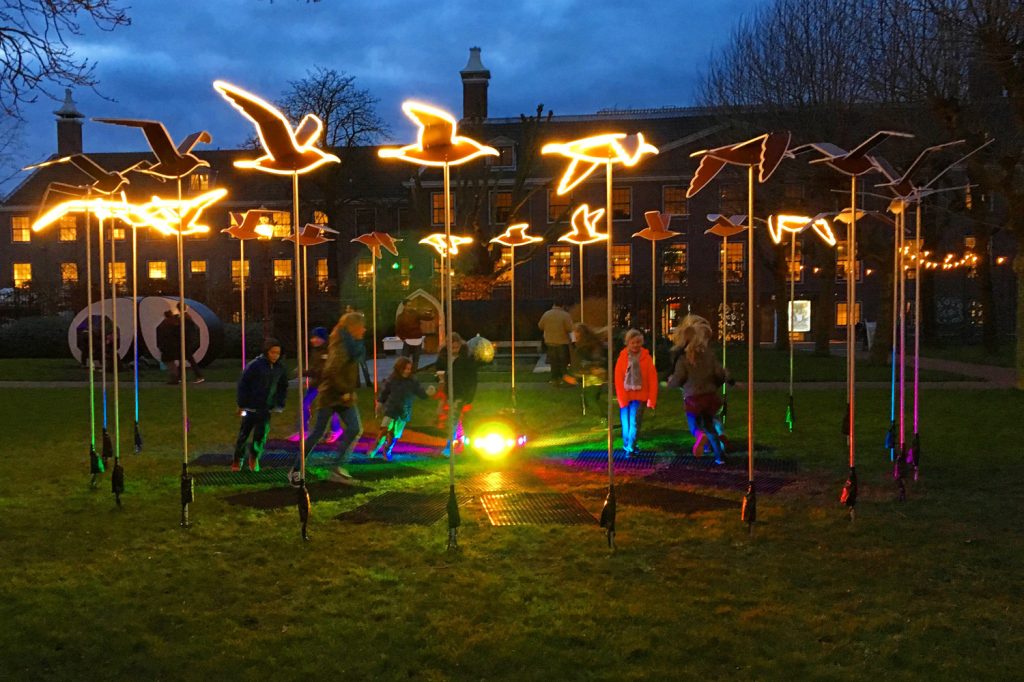 Photo by Marjolein Lammerts van Bueren
This installation is on display at Amsterdam light festival 2015-2016.
This artwork is a playground for everyone. All can play with this animated light sculpture.
24 illuminated birds are arranged in a circle with an about 8-meter circumference. The birds appear to be flapping their wings.
There is a columnar object for sensor, at the center of the circle.
If visitors walk around the columnar object they can experience the birds flying with them.
One bird will appear when a visitor plays alone; two birds will appear when two visitors play together.
The number of appearing birds will increase as the number of visitors increases.
Also, If visitors synchronize motion with their friends, rainbow colored illumination lights up at their feet.
このインスタレーションはアムステルダムライトフェスティバル2015-2016にて展示されました。
この作品は"みんなのための遊び場"で全ての人がこの光るアニメーション彫刻で遊べます。24羽の光る鳥が直径8mの円周上に配置されていて、それぞれが連続して羽ばたく様子を表しています。
輪の中央にセンサーが設置された円柱型の箱があり、来場者がその周りを歩くと、動きに応じて鳥が光り、まるで来場者と一緒に飛んでいる様な体験ができます。来場者が一人の時は鳥が1羽現れ、2人の時は2羽と来場者が増えると現れる鳥も増えます。そして、2人以上の来場者がタイミングを合わせて輪の中を回ると足下に虹色のライトが輝きます。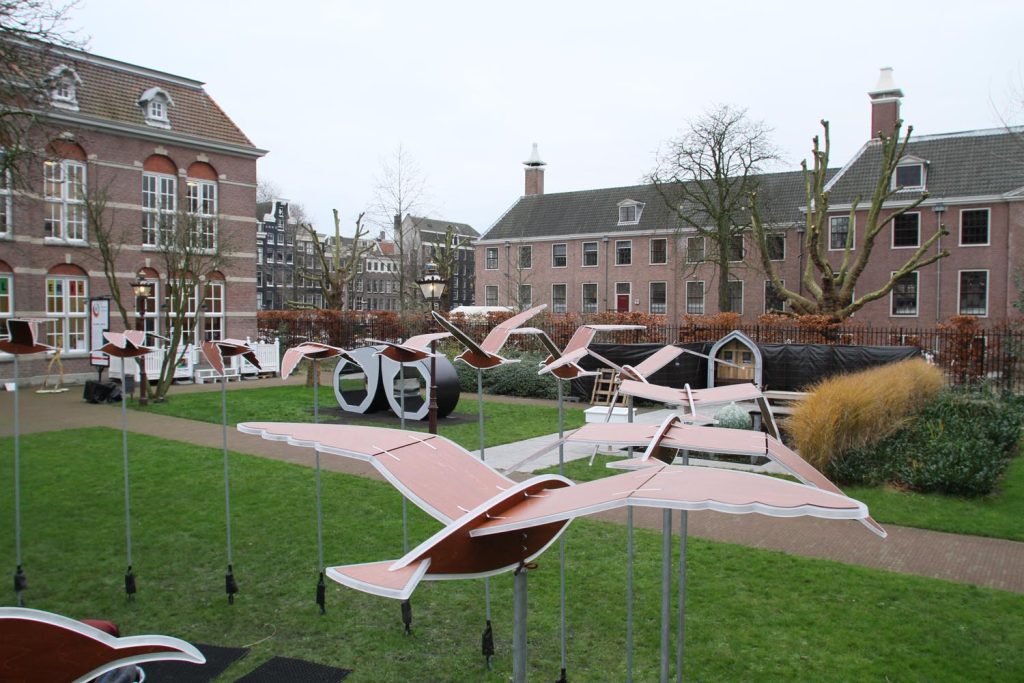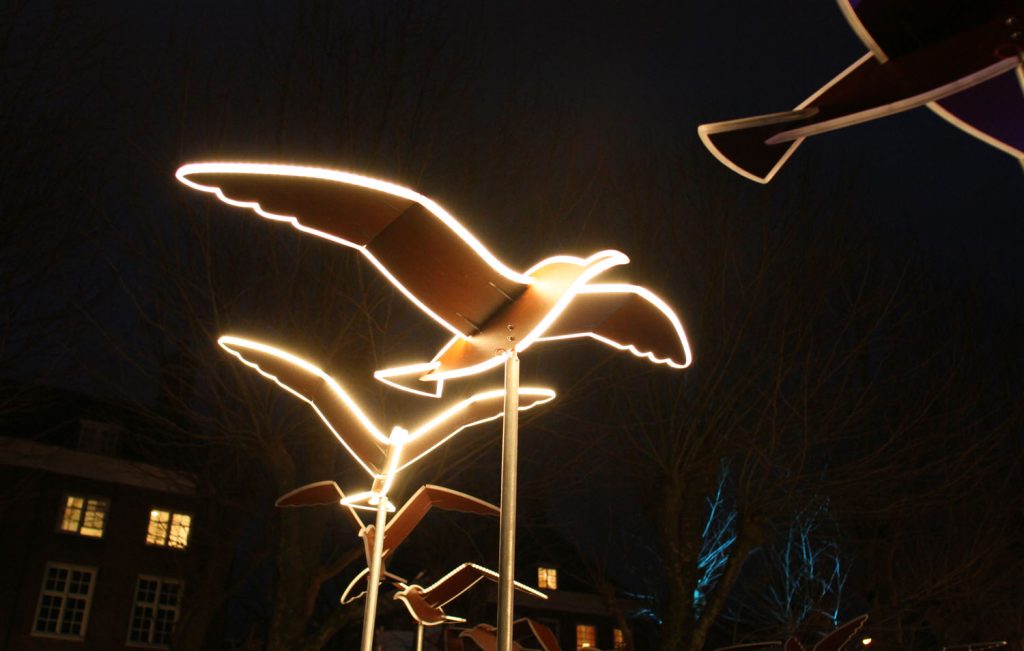 Many Seagulls are living in Amsterdam. Groups of them migrate south in winter. They meet local gulls and make friendships at temporary resting places on the way to their southerly destination. I imagine they have many friends in Europe. That's why I chose the Seagull as a motif of the work as answer to Amsterdam light festival 2015-2016 theme "Friendship".
アムステルダムには多くのカモメが住んでいます。彼らの一部は冬になると営巣の為に南へと旅立ちます。その旅の途中に羽を休める街で、そこに暮らすカモメ達と出会い友達ができる事でしょう。
私は彼らがヨーロッパ中に友達がいると想像します。これはアムステルダムダイトフェスティバル2015-2016のテーマ"Friendship"の為のストーリーです。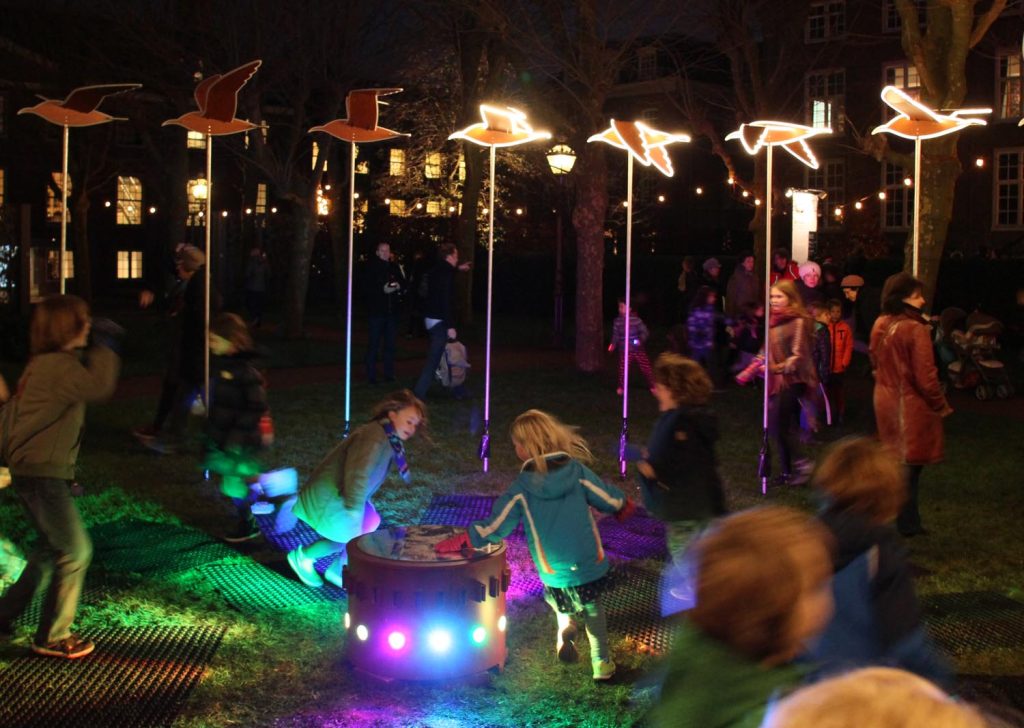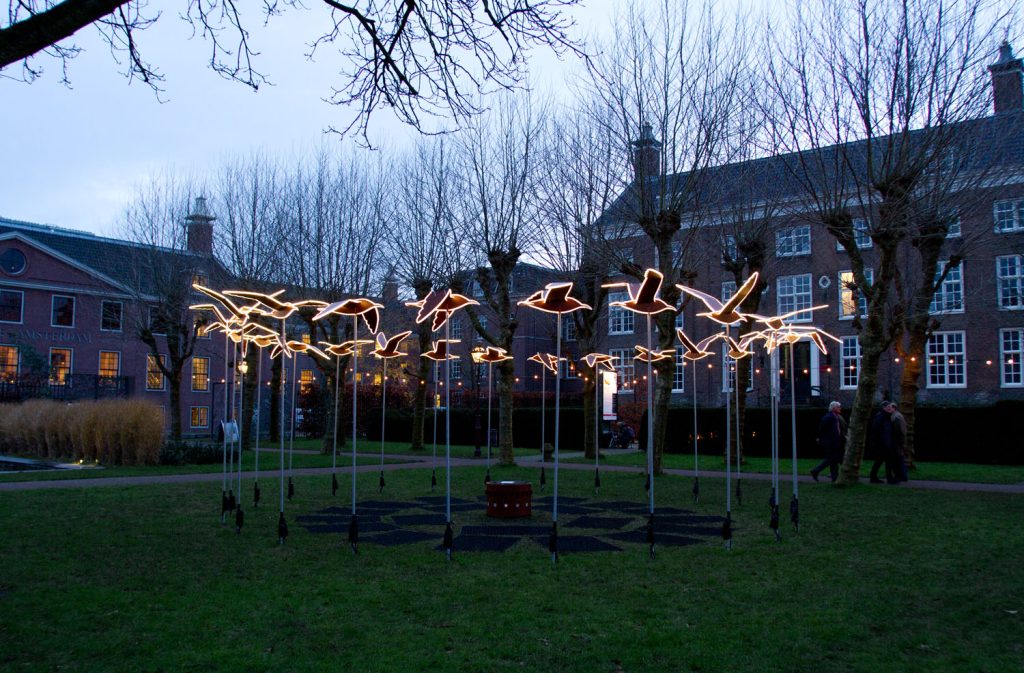 Visitors can play with the gulls at this playground. If visitors bring friends to play with the artwork, the gulls respond and bring their friends to play with the visitors.
This artwork is made to be more fun and meaningful with friends, than alone.
If you come alone, I recommend making a new friend there, and play together!